Finger Gloves™ are created by Carmel Stover who liked to be able to keep her hands free while creating, yet needed tough, comfortable, reusable and cost-effective finger only coverage only. Carmel tried all the items one can purchase from Office Supply, Craft and Drug Stores and soon discovered that if she wanted form fitting finger only coverage that was comfortable, durable, reusable, heat-resistant (for hot gluing) and could be personally customized, she was going to have to create it herself and so the adventure began!
The Finger Gloves™ are Heavy-Duty, Reusable *100% natural latex rubber that is six times stronger than standard latex gloves or finger cots. They were made to be Re-usable, Durable and Machine Washable! We like to say, "Use em' until you lose em'."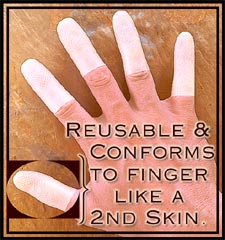 However, even with the Finger Gloves™ superb strength and durability, it was very important to Carmel that they were not only tough, but comfortable to wear! This is why the Finger Gloves™ were designed to conform to any finger like a naturally soft and flexible Second Skin.
And because of their form fitting design, coupled with the superb gripping of the rubber, you will find that your dexterity is actually enhanced! In fact, we've had many individuals pick up items they weren't able to pick up with their bare fingers! And when you prefer a completely smooth surface, simply turn the Finger Glove™ inside out.
And lastly, we think one of the best attributes is that you can trim the Finger Gloves™ to any preferred length making them completely customizable. Need something just on the tips of your fingers (for quilting, paper handling, etc.) or just over the top of your middle finger joint? Simply trim to your preferred length and the Finger Gloves™ will still fit like a second skin and are, as always, completely reusable.
In all honesty, we could go on and on about our Finger Gloves™... but we have been so fortunate to have the most amazing customers who have been so generous to share their great Finger Gloves™ experiences with us, and hopefully with you! You can read more about the versatile uses they have discovered by clicking here. ~ Customer Comments.
We also have additional resource pages including FAQ's and Qualities & Capabilities (which we personally think are super handy... okay, pun intended.) Plus our favorite (and hopefully yours as well), Purchase & Pricing page. We think it holds a Win/Win outcome for us all!
And Most Importantly... Thank you, Thank you, Thank you. We are in such appreciation for the time you are spending with us today and look so forward to filling your order! Please Contact Us should you need anything further.
With Deepest Appreciation, Carmel and Savona
*COLOR ~ For viewing, the Finger Gloves™ have been lightened in the pictures so that you can actually see them.
In reality they are a nearly invisible 'neutral' color that will blend with your natural skin color almost seamlessly.
You will love the absolute versatility of our Finger Gloves™. Here are simply a few uses...
"These Finger Gloves™ are just

what I needed. I put them to hard use and I'm happy to report no cuts or splits on my fingers. I love them. I find my dexterity is actually enhanced when using Finger Gloves™. I am so impressed with the durability of these things. I'm not sure I will wear them out. I'm just so happy to have found your product. Thank you again." Sincerely, Brenda W.

What's the differences between Finger Gloves™,

Finger Cots & Rubber Finger Cones? LOTS!
*Finger Gloves™ contain natural latex rubber which may cause allergic reactions in certain individuals.
Click here to learn more about The Bucky and Shug™ Love em' Up!™ Animal Welfare Fund...
Intellectual Property laws: Patent, Trademark & Copyright © 1999-ongoing by PAEAN VERITÀS™. All rights reserved. Finger Gloves™, Finger Glove™,
Fingergloves™, Fingerglove™, Individual Finger Gloves™, Individual Finger Glove™, Paean Veritàs™, Create in Comfort™, Carmel Authentic™,
Authentic™ Healing Creams and Oils, Bucky and Shug™, Chocolate Wonder™, Love em' Up™ and Grip On - Game On™ are all legal trademarks.
Thanks for creating your own idea's... It feels good and the Karma's nice as well!
finger protection, fingertip protection, finger tip protection, fingertip protector, finger tip protector, fingertip bandage, finger tip bandage, fingerguard, finger guard, gardening gloves, finger cover, eczema, finger tip cover, fingertip cover, finger guard, finger tip guard, fingertip guard, finger wrap cover, finger tip wrap cover, fingertip wrap cover, garden glove, finger protection, finger-tip protection, finger tip protection, gardening fingertips, finger-tip protector, finger tip protector, finger-tip bandage, finger tip bandage, finger protection, finger tip bandage, finger cover, finger tip cover, eczema, finger-tip cover, finger tip cover, finger protection, finger guard, gardening gloves, eczema, finger tip guard, fingertip guard, finger wrap cover, gardening gloves, finger tip wrap cover, fingertip wrap cover, finger-tip wrap cover, garden gloves, rubber fingers, finger protection, rubber finger, garden gloves, rubber finger tips, rubber fingertips, rubber finger-tips, rubber cones, gardening gloves, rubber cone, finger protection, rubber finger protectors, rubber finger protector, rubber finger cot, fingerguard, finger guard, rubber fingercots, rubber finger cots, rubber finger grip, rubber finger grips, rubber grips, rubber grip, rubber finger gripper, fingercot, fingercots, fingercot, fingercots, finger guard, fingerguard, finger protection,, finger nail biting, fingernail biting, fingernail chewing, finger nail chewing, nail biting, dry fingers, calloused fingertips, cracked fingers, dry fingertips, cracked fingertips, split fingertips